On the Air with the Bloody Mary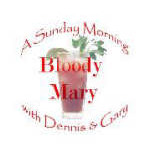 Dennis Wight and Gary Hess have created a unique show for anyone who enjoys relaxing with a Bloody Mary on Sunday morning. The webcast includes music, news, interviews, entertaining stories, and cutting-edge recipes for this popular beverage. The show also features the ingenious use of audio streaming and voice-changing software.
If you enjoy sipping on a Bloody Mary on a Sunday morning, there is a show for you. The "Sunday Morning Bloody Mary with Dennis and Gary" show started after Gary Hess and his brother-in-law Dennis Wight began a ritual of trading calls with each other on the latest and greatest concoction for their Bloody Mary drink on Sunday mornings.
"After months of this going on, Gary came up with the idea of creating a webcast to be broadcast live during the Bloody ritual."
The phone calls would eventually transform into a webcast that would garner listener of all ages from around the globe. The Bloody Duo's mission for the show is to "Drink and entertain listeners every Sunday morning..." The webcast also provides an alternative to church and an entertaining venue for listeners on Sunday mornings.
A web link for the show which starts 11:00 am Central time can be found at
http://www.bloodymarywithdennisandgary.com
. During the hour-long broadcast, Dennis and Gary feature a variety of music, news topics and live interviews. But the most important segment of course is dedicated to the Bloody Mary drink.
"As most of you know, the Bloody Mary is a drink that can be customized to one's particular taste of choice. Some like it bland, some like it hot, some like it with celery, or pickles, or both. Some like it with lime juice, sweet and sour mix or any other number of liquids to give it an extra kick."
On the air, they cover various new and alternative concoctions of the Bloody Mary. The segment is dedicated to individuals who like to experiment. Listeners are also encouraged to submit new recipes to the website.
The show also features a military salute that honors the men and women who serve their country. "We thank them for what they are doing both here and abroad. We hope they all come home safe and can join us with a Bloody Mary each and every Sunday."
Dennis is a Cubs fan and Gary a White Sox fan. Dennis is a Bears fan and Gary a Packers fan. These guys can never seem to agree on a team. The "Bloody Sports" segment provides a venue for the Duo to debate over their favorite football and baseball teams. Listeners can also call into the show and participate in the ongoing discussions.
The "Sunday Morning Bloody Mary with Dennis and Gary" show debuted on August 6, 2006. Turning the idea for the show into reality took only a few months. Beginning June 2006, Dennis and Gary began researching on what it would take to create the webcast. They soon settled on SAM Broadcaster by Spacial Audio after trying a number of audio streaming solutions.
Since Dennis and Gary are located in two different parts of the country, this posed a significant challenge to producing a live show over the Internet. But with some inventive ingenuity and the use of Skype, a VoIP solution, they managed to produce a live show from remote locations on an economical budget.
"We've gone from Yellowtooth technology to what we think is Greentooth technology. And someday we're hoping for Bluetooth technology."
Listeners may be entertained by a variety of colorful characters including The
Reverend Gary
who conducts the solemn Sunday church services. Prilo and Zantack, a pair of space aliens, provide zany and unexpected moments for the webcast. The show highlights the plight of the two guzzling galactic travelers in their search for the Bloody Mary.
Dennis and Gary created the
voices of Prilo and Zantack
with MorphVOX voice changing software, live during the broadcast. They plan to use MorphVOX more in the future to multiply their ability to create voices for their new characters on the program.
Though the show now has number of Bloody Mary enthusiasts from around the globe, the continued challenge is exposure and marketing on a limited budget. Dennis and Gary are looking to grow the listener base above and beyond the current levels.
Gary and Dennis are also focusing on other goals. To help with the bottom-line, they are hoping to improve the sales of "Bloody Gear" merchandise on their website. They would like to become a recognized leading authority in the beverage community and an avenue of advertisement for beverage companies.
Week after week, the pair has been putting out a new show, continually improving the program and refining the production. Nonetheless, the Bloody Duo hasn't forgotten the most important goal in their webcast is "TO HAVE FUN!" So next time you're having an inkling for a new kind of Bloody Mary on a Sunday morning, tune into "Sunday Morning Bloody Mary with Dennis and Gary" for a fun, informative, and refreshing hour.;