MorphVOX Pro
Voice Changer
A New Level of Voice Changing
Click the logo for a tutorial on setting up MorphVOX

Change Your Voice Online And In-Game
Take your voice-changing to a new level with superior voice-learning technology, background cancellation, and sound quality.
Get These Key Features
Many Free Voices

Tweak each of these voices to your heart's content to produce even more voice combinations

Many Free Sound Packs

Turn MorphVOX into a soundboard with quick keys to send out farts and drum-rolls while still modding your voice

Try Out the "Backgrounds"

Add any background sound while you talk. Fool your friends: sound like you're in the middle of a traffic jam or shopping at the mall

Superb voice changing algorithms

New Ultra-quiet background cancellation make it one of the cleanest-sounding voice changers available on the market

Optimized for online games

Sound like the character you play in-game whether you choose to be a grumpy dwarf or a mighty giant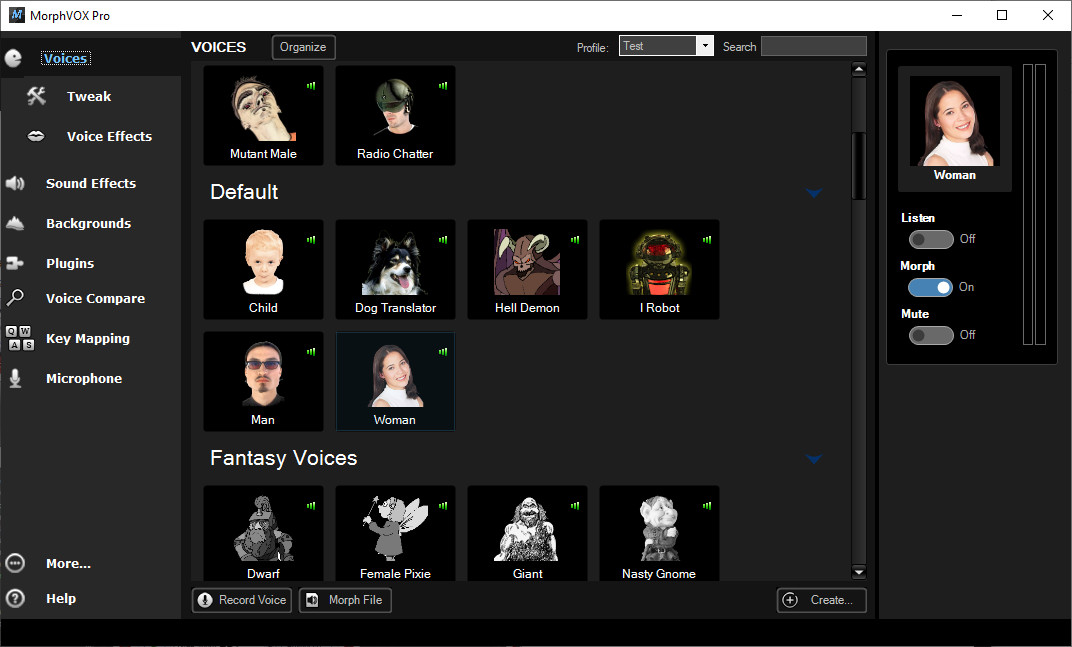 Superior Voice Changing Quality
Click on the links below to listen to MorphVOX Pro superior voice changing quality.

* Morphed audio may vary with each speaker, and yes it really is the same speaker before and after! Because your results may vary, we suggest that you try the software first before you buy it.
New Features
MorphVOX Pro voice changer comes with new features.
New intuitive interface - palettes and content organizer

Live vocal visualization - Color Blast, Frequency Spectrum, Spectrogram

Voice comparison analysis and tuning.

State of the art noise reduction - digital and smart modes

Pre and post graphic equalizer for finely sculpted audio

Stereo microphone support

Voice parsing detection
Standard Features
MorphVOX Pro has many premium features that distinguish it from other software products on the market:
Advanced voice-learning algorithms for best quality sound

Full integration with online games and chat programs

Low bandwidth and CPU usage for excellent performance

A large library of free voice and sound effect packs

Backgrounds - sound like you are somewhere else

Add your own sounds effects and backgrounds

Advanced vocal tract filters for unlimited tweaking

After Effects: add environmental effects to your voice

Quick Voices: switch your voice with a single keystroke

Quick Effects: Play any effect with a single button

Audio Alarms: announce the time or play a clip.

Morph audio files or record your morphed voice to a file.
Try the FREE Trial Version Today!
Take voice changing to a new level. Change your voice today with MorphVOX Pro. Download the software today!