Changing the Musical Landscape: DJ Storm X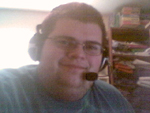 DJ Storm X looks forward to a chance to make a difference with his music in the film and computer games industry. His natural talent for composition combined with high-quality software tools has allowed him to produce some amazing musical tracks.
Over the last six years, Joseph Chapman (DJ Storm X) has turned out some of the most dynamic musical tracks. His musical work ranges from Techno and Dance to full movie soundtracks with over 30 finished compositions. His underlying power to create these compositions stems from his natural affinity for music and his enthusiasm for film-making. DJ Storm X music can be found at
SoundClick.com
.
Natural Music Talent
From the start, Joseph had a strong aptitude for music. As a young child, he was able to quickly translate songs and music that he heard on the radio into sounds on the piano. In junior and high school, he was extensively involved with band and orchestra. By the time he graduated, he had learned how to play multiple instruments including the trombone, trumpet, baritone, tuba, French horn, clarinet, saxophone, double bass, and cello.
Joseph was also naturally drawn to computer technology. In 2000, he discovered a software tool called
Fruity Loops by FL Studio
. Joseph quickly realized that this tool provided a natural extension to his creativity, allowing him to combine various sound samples to produce riveting Techno and Dance tracks.
He also began to use
Reason 3 by Propellerhead Software
. This opened up his world of music, allowing him to create rich soundtracks with the digital-quality orchestral instrumentation in the program. Many of the soundtracks that he created with Reason 3 are epic in nature and well-suited for film.
On the SoundClick website, One fellow musician writes to Joseph, "I took a listen to some of your work and I'm impressed. You have some very good melodies and your music shows promise." Another listener describes Joseph's captivating music, "Every one of your songs seems to hit me in the core.... Keep up the great work... I'll be listening and dancing."
Joseph has his own unique style for musical composition. But he does have a few other artists that provide him with inspiration. For Techno and Dance music, he likes to listen to Robert Miles who extensively uses piano for the melodies in his songs. For orchestral arrangements, John Williams is by far Joseph's favorite composer.
Future in Film-Making
Joseph would like to write, direct, and produce films. He loves movies and he is even more passionate about film making. In college, he had significant experience in film production. In a digital film course, he learned the ropes of creating a movie, starting with the script. During his training, he also had the responsibility of writing and directing movies. He is currently working on a movie script that he hopes will be used in a film.
As he gets more into directing and producing movies, Joseph plans to acquire new and more sophisticated video equipment for his productions. He also has started using a voice changing tool that he recently discovered called MorphVOX Pro. This tool has allowed him to speak in various character voices which would be a perfect application to his film making process. In this
YouTube sample
, Joseph demonstrates MorphVOX Pro's voice changing capabilities.
Combining Music and Film
By combining his musical compositions with film-making skills, Joseph hopes this synergy will allow him break into the film and computer games industry. Many of his compositions are perfectly suited for a movie or game soundtrack.
When asked about the future of his music, Joseph says, "What I really like to see happen is to have my music adapted for film or put into a video game."
The endeavor is not without the challenges. Many other musicians are vying for the same attention of the listeners and publishers. However, Joseph hopes to increase the visibility and sales of his music. With some marketing and determination, it's just a matter of time before DJ Storm X takes the industry by storm.;