MorphVOX Pro can be used with GSC Chat client. You can change your voice real-time and quickly output custom audio messages with a single keystroke.
With GSC, you can pick from anyone of 12 worldwide datacenters to host your own free voice server. Get full rights to create subchannels, kick and ban users, and personalize your voice server.
---
GSC The Total Gaming Client: Welcome Screen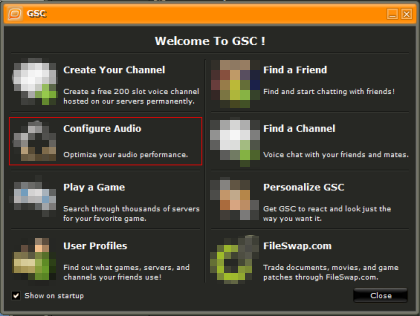 After starting the GSC client and signing on, you should see the above image. Click on "Configure Audio"
---
GSC The Total Gaming Client: Audio Settings Panel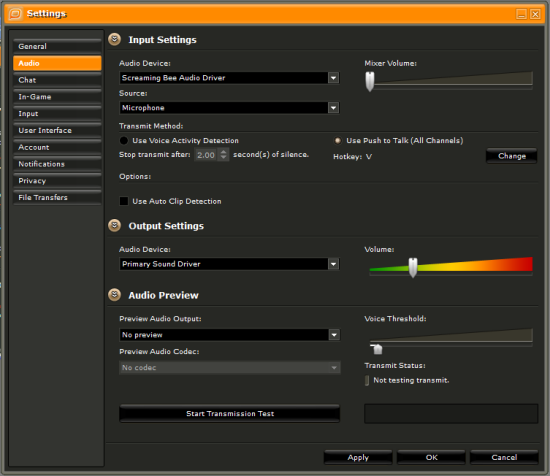 MorphVOX Pro integration with GSC

To set up GSC to run properly with MorphVOX Pro:
Set Audio Device to "Screaming Bee Audio Driver"
If you have Push to Talk set, be sure to use the same key as is assigned in MorphVOX Pro. For more information on assigning a Push to Talk key in MorphVOX click here.

Testing the voice changing

You can test to see how your morphed voice sounds in GSC. Simply click the Start Transmission Test button to hear how you sound in game. Note, use the push to talk key if it is assigned. You should also turn off "Listen" in MorphVOX to avoid duplicating the playback sound of your voice and improve CPU performance for the game.

Trouble Shooting:
Unable to hear voice in GSC: Make sure that the Audio Device is set to Screaming Bee Audio Driver. Adjust volume and microphone boost if signal is low.

Playback in MorphVOX stutters when you run the game. On some machines, the high CPU usage of some games will kill performance on the MorphVOX "Listen" playback. In pretty much all cases, the voice quality to the actual game is unaffected. Turn off "Listen" in MorphVOX and use the Start Transmission Test to hear the actual voice quality.