MorphVOX Voice Changer Software can be used with audio editors like Audacity. This free fine tool is great for editing audio clips for movies, animations and other sound-related projects. Audacity can be found at this site: http://audacity.sourceforge.net/

Note: Some versions of Audacity use the default microphone. To allow Audacity to use the MorphVOX Microphone you will have to set the Windows Default microphone as explained here click here

You easily intergrate MorphVOX voice changer with some minor adjustments in Audacity. MorphVOX can be used as the recording source for Audacity, providing a seamless experience for your audio creation.
Here's how to set that up:
1. Run Audacity
2. Open the menu "Edit/Preferences..."
3. Click on "Devices" tab and adjust the settings to look like this: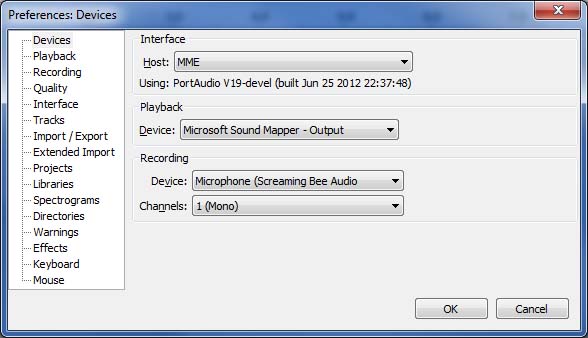 To test if your microphone is hooked up correctly do the following:
Run MorphVOX.
Start Audacity
Click on the "Record" button in Audacity.
Start talking.
Click the "Stop" button.
Click the play button to listen to the recording.
If the your voice is faint then you might want to click on boost microphone gain.
MorphVOX Sound Tips:
Set the quality to highest from the Microphone Panel.
Reduce your real microphones level if you get distortion or feedback. We recommend using a headset to prevent feedback.
Keep the Screaming Bee Audio input level at 50%. Adjust your real mic if you need to adjust the volume.
After setting up the voice you want turn off the MorphVOX "Listen" button so you do not hear your own voice.
Map sound effects to hot keys:
Try other voice packs for more voices:
---